FRITZ!Box 6490 Service - Knowledge Base
FRITZ!Box 6490 Service
Not your product?
This document is also available for the following products:
MyFRITZ!-account in meerdere FRITZ!Boxen configureren
Je kunt je MyFRITZ!-account in meerdere FRITZ!Boxen configureren. Na het inloggen op myfritz.net zie je dan een overzicht van alle FRITZ!Boxen die zijn verbonden met je MyFRITZ!-account en kun je de FRITZ!Box selecteren waarnaar je wilt worden omgeleid.
Voorwaarden / Beperkingen
1 Bestaande MyFRITZ!-account in de FRITZ!Box configureren
Configureer je persoonlijke MyFRITZ!-account in alle FRITZ!Boxen waartoe je toegang wilt verkrijgen via internet:
Klik op "Internet" in de FRITZ!Box-gebruikersinterface.
Klik in het menu "Internet" op "MyFRITZ!account".
Als de optie "MyFRITZ! enabled for this FRITZ!Box" wordt weergeven, klik je rechts van het e-mailadres op de link "Another MyFRITZ! account".
Schakel de optie "Register the FRITZ!Box with an existing MyFRITZ! account" in.
Voer in de betreffende invoervelden het e-mailadres en het MyFRITZ!-wachtwoord in die je hebt gebruikt voor de registratie bij MyFRITZ!. Dat zijn de inloggegevens waarmee je jezelf aanmeldt op de website myfritz.net.
Klik op "Next".
Als je wordt gevraagd een FRITZ!Box-gebruiker te configureren, voer je in de invoervelden een naam en een wachtwoord in voor de FRITZ!Box-gebruiker en klik je op "Next".

Belangrijk:Om veiligheidsredenen moeten de wachtwoorden voor de FRITZ!Box-gebruiker en je MyFRITZ!-account verschillend zijn.
Nu wordt je na het aanmelden op myfritz.net doorgestuurd naar het MyFRITZ!-apparatenoverzicht waar je kunt kiezen tot welke FRITZ!Box je toegang wilt hebben.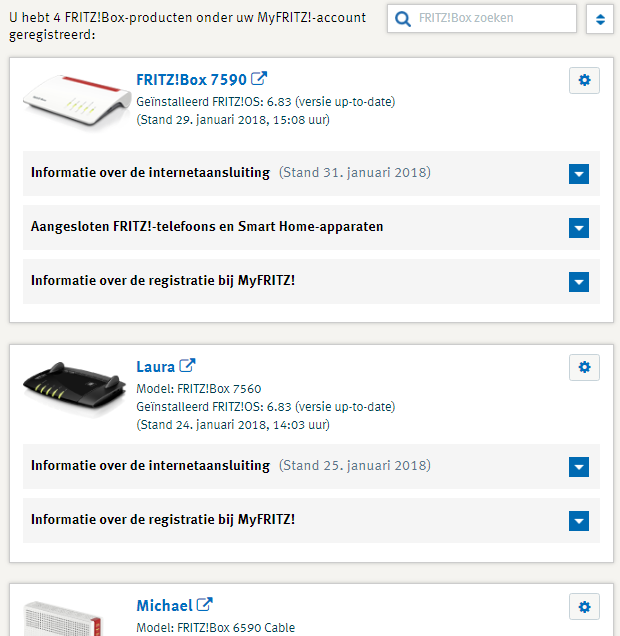 Afb.: MyFRITZ!-apparatenoverzicht op myfritz.net