FRITZ!Box 7390 Service - Knowledge Base
FRITZ!Box 7390 Service
Not your product?
This document is also available for the following products:
Toegang tot FRITZ!-producten in het thuisnetwerk vanaf internet
Vanaf internet heb je met de MyFRITZ!App 2 gemakkelijk toegang tot alle FRITZ!-producten in je thuisnetwerk, ongeacht of dit een extra FRITZ!Box, FRITZ!WLAN Repeater of FRITZ!Powerline-adapter is. De MyFRITZ!App 2 voor Android installeer je eenvoudig op je smartphone of tablet. Vervolgens kun je in de MyFRITZ!App 2 onder "Home network" een verbinding tot stand brengen met je FRITZ!Box en de gebruikersinterface openen van andere FRITZ!-producten.
Als alternatief kun je ook een VPN-verbinding tot stand brengen met je FRITZ!Box, op Windows-computers bijvoorbeeld met het programma FRITZ!VPN, en via het thuisnetwerkoverzicht van de FRITZ!Box-gebruikersinterface toegang krijgen tot je FRITZ!-producten.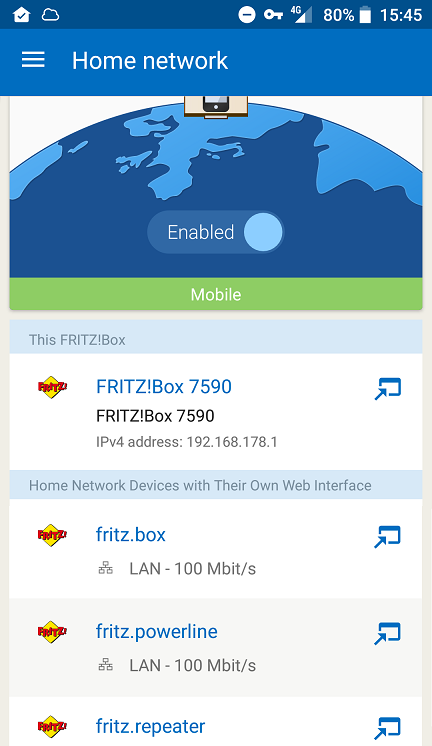 Afb.: "Thuisnetwerkapparaten met eigen webinterface" in MyFRITZ!App