FRITZ!Box 7530 Service - Knowledge Base
FRITZ!Box 7530 Service
Not your product?
This document is also available for the following products:
Pintoewijzing van kabels en poorten
De FRITZ!Box heeft diverse poorten om de FRITZ!Box te verbinden met de DSL-aansluiting of om telefoonapparaten aan te sluiten. Om je bijvoorbeeld in staat te stellen je eigen kabels te gebruiken, beschrijven we hier de pintoewijzing van de meegeleverde kabels en van de poorten op je FRITZ!Box.
Opmerking:Je FRITZ!Box is verkrijgbaar in diverse productvarianten, die qua leveringsomvang van elkaar verschillen. De exacte leveringsomvang vind je in de informatie op de verpakking van de FRITZ!Box.
1 DSL-kabel (RJ45/RJ11)
Bij de RJ45-stekkers moeten pins 4 en 5 zijn toegewezen. Bij de RJ11-stekkers moeten pins 3 en 4 zijn toegewezen. De volgorde maakt niet uit, het is dus niet mogelijk om deze te verwisselen.
2 RJ11-bus van de poort FON
De twee middelste pins 3 en 4 zijn toegewezen aan de RJ11-bus.
3 TAE-bus van de poort FON
De TAE-bus is zodanig toegewezen dat de contacten 1 en 2 op de TAE-stekker moeten worden toegewezen (zie afb.).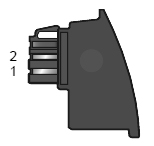 Afb.: Contacten 1 en 2 op de TAE-stekker
Dit vind je misschien ook interessant: