FRITZ!Fon C4 Service - Knowledge Base
FRITZ!Fon C4 Service
Not your product?
This document is also available for the following products:
Headset gebruiken
Naast de functie "hands-free calling" voor het bellen met je FRITZ!Fon kun je ook een headset gebruiken. Rechts op de telefoon vind je een stereoaansluiting van 3,5 mm.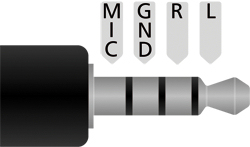 Fig.: Schema voor de aansluiting van 3,5 mm (stereo)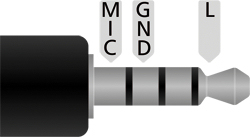 Fig.: Schema voor de aansluiting van 3,5 mm (mono)
Je kunt alle in de handel verkrijgbare headsets voor mobiele telefoons gebruiken als deze een impedantie van 32 ohm voor de oortelefoon en 800-2200 ohm (+/- tolerantie) voor de microfoon hebben. Je kunt stereo- of monoheadsets gebruiken op de connectorpinnen zoals aangegeven in het getoonde schema. De mechanische beveiliging van de connector moet niet meer dan 7 mm bedragen voor een goed contact.
AVM heeft echter met succes de volgende modellen headsets getest: Aangezien AVM geen invloed heeft op technische wijzigingen van deze accessoires, kunnen we geen algemene garantie voor prestaties geven.
Sennheiser SC 232/262 en SC 632/662 gebruikt met geschikte adapter GSM-ADP-CBB01 (zonder knop voor beantwoorden/beëindigen) of CMB 01 CTRL (met knop voor beantwoorden/beëindigen)
Voor zover ons bekend is, werken iPhone-headsets niet met een FRITZ!Fon.