FRITZ!Fon C4 Service - Knowledge Base
FRITZ!Fon C4 Service
Not your product?
This document is also available for the following products:
Headset gebruiken
Met je FRITZ!Fon kun je niet alleen handsfree telefoneren via de functie "hands-free calling", maar ook met behulp van een headset. De telefoon heeft aan de rechterkant een bus voor een 3,5mm-jackplug.
Alle in de handel verkrijgbare headsets voor mobiele telefoons met een impedantie van 32 ohm voor de oortelefoon en een impedantie van 800-2200 ohm (+/- tolerantie) voor de microfoon zijn geschikt. Je kunt stereo- of monoheadsets gebruiken met de onderstaande pintoewijzing. De mechanische ommanteling van de stekker mag niet groter zijn dan 7 mm om een goed contact te garanderen.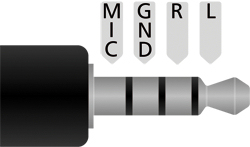 Afb.: Pintoewijzing 3,5mm-jackplug (stereo)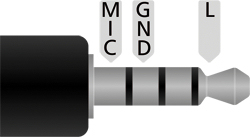 Afb.: Pintoewijzing 3,5mm-jackplug (mono)